NEWS
2011.03.26
Anyang Halla Holds Charity Match to Help Aid Reconstruction of Earthquake-Affected Areas
On March 22, at Anyang Halla's home arena in Anyang City, Korea, Anyang Halla Team took the initiative to hold a charity match to help aid the reconstruction of Tohoku region that was hit by the March 11 massive quake.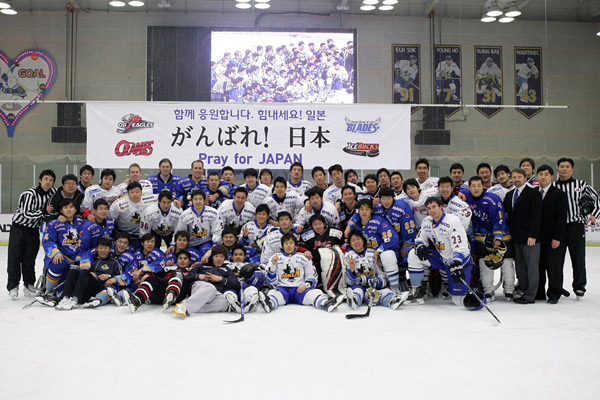 The players and team staff were divided into Home (blue) and Visiting (white) teams to play the natch. Some players from High1 and DF Kim Hyeok from Tohoku Free Blades also joined the match.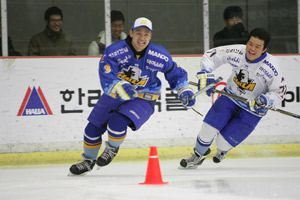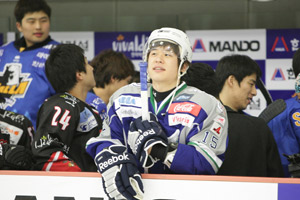 The admission fees for the match and the proceeds of a charity auction will all be contributed as charity. As well, all the players who scored or assisted in the match contributed to the fund. A total amount of 20 million Korean won, or 1.5 million yen, including donation from Halla Team will be contributed to Japan Red Cross through Asia League Japan Office.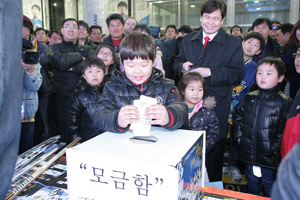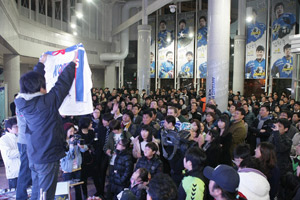 【Head Coach Shim, Anyang Halla】
「 I express my deepest sympathy to all the Japanese people and those who involved in ice hockey in Japan being affected by the recent massive earthquake. We have cultivated friendship with Japanese people through Asia League for nearly 10 years. Our team was on our way to Koriyama from Sendai Airport when the March 11 temblor occurred and experienced the quake first hand. So we all can fully understand the situation and how the Japanese people feel now. I sincerely hope that all of you will overcome this difficulty and recover from the crisis as early as possible. Pray for Japan, GAMBARE Nippon!!」
【Takayuki ONO, #3, Anyang Halla】
「 I extend my condolences to the lives lost in the March 11 earthquake and tsunami. I also sincerely hope that the people still unaccounted for will be rescued and those who are being forced to live in evacuation centers will restore their ordinary lives as early as possible. We Anyang Halla team was on our way to Koriyama City from Sendai Airport for Playoff Finals when the quake occurred. Thanks to the cooperation and assistance of Tohoku Free Blades, we were able to return home the next day safe and sound. The charity match was all what we could do now in Anyang for Japanese people. The Korean people also supported the event. For me who spent my high school days in Hachinohe City, the disaster is not someone else's affair. It may take time, but I am determined to try hard for recovery with you all. Let's stay strong and GAMBAROU Tohoku and Nippon!!」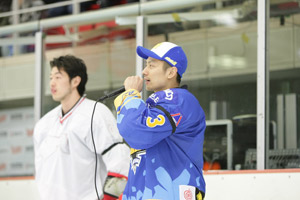 (C)ASIA LEAGUE ICE HOCKEY 2010 All Rights Reserved.
Categories
Archives
2019
2018
2017
2016
2015
2014
2013
2012
2011
2010