NEWS
2012.12.26
The 67th All-Korean Ice Hockey Championship
The 67th All-Korean Ice Hockey Championship (December 7-15, 2012) was held at Mokdong Arena from Friday, December 7 to Saturday, December 15, 2012 in Seoul, Korea.
Representing the Asia League was the Anyang Halla Ice Hockey Club and the High1 Ice Hockey Team. Meeting in the Championship final, High1 managed to win back-to-back and their fifth title overall by a score of 7-4.
Final Standings
Champion: High1 Ice Hockey Team (back-to-back, fifth overall)
Runner-up: Anyang Halla Ice Hockey Club
3rd: Yonsei University, Kyunghee University
Tournament MVP: #86 Dong-Hwan Song (High1)
Head Coach Yoon-Sung Kim
"Winning the championship this year really meant a lot for the team. Despite losing two players to military service and not performing well as of late, we were able to regroup and battle as a team for this tournament. I am extremely proud of our players who were able to pull through. I hope this win will turn our team around and lead to more success in League play."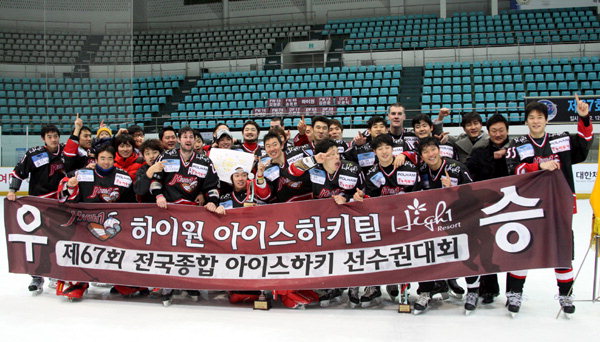 (C)ASIA LEAGUE ICE HOCKEY 2010 All Rights Reserved.
Categories
Archives
2017
2016
2015
2014
2013
2012
2011
2010